Green PTFE Coated Wire Mesh With Fantastic Hydrophobic Performance
Non-stick surface
PTFE coated wire mesh refers to woven wire mesh which is coated with fine Teflon resin. The wire mesh, with mesh size of 100 per inch, 200 per inch or 325 per inch, is woven from stainless steel wire diameter which is heavier than that used to weave bolting cloth. The (Teflon) coating serves to increase the hydrophobic properties of the filter by allowing the passage of fuel but inhibiting the passage of water in the coalescer-based system. Finished products are specific used for filter devices, especially for industrial cartridge filters in high-temperature and chemical-resistant applications.
Green color may be inconsistent from roll to roll or even within the roll. This variation does not affect performance.
Features
Excellent hydrophobic performance.
Wide range of working temperature.
Chemically resistant and self-lubricating.
High tear-strength and good flex-life.
Designed for efficient operation & cost saving.
Easily to clean during maintenance & service operations.
Micron-sized mesh opening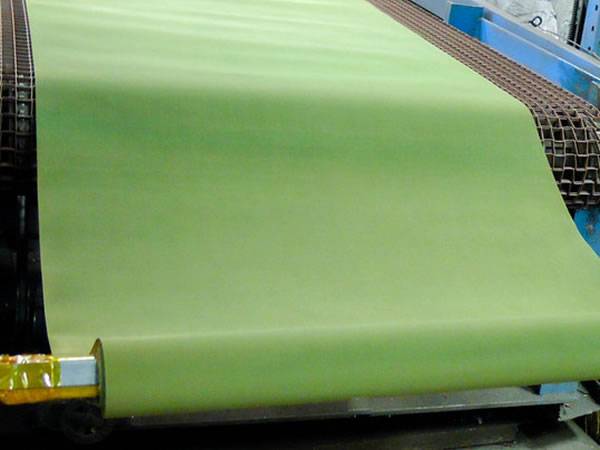 Uniform Teflon coating
Specification
Material

Wire mesh: stainless steel 304/316L
Coating: Polytetrafluoroethylene (TEFLON) resin.

Wire diameter: 0.0014", 0.0021", 0.0045".
Mesh size: 100, 200, 325 per inch.
Temperature Range: -73 °C to 260 °C.
Color: green.
Standard: ASTM E2016-11, UNS S31600.
Package: packed in roll, wrapped with moister-proof paper, put into wooden cases, or according to your requirements.
Specification of PTFE coated wire mesh
Item
mesh/inch
Wire diameter
Opening
Opening Microns
Open area
Weight
inch
mm
mm
%
lb/sq. ft
BPM-100
100
0.0045
0.1143
0.1397
140
30
0.1400
BPM-200
200
0.0021
0.05334
0.07366
74
33.6
0.0600
BPM-325
325
0.0014
0.03556
0.04318
43
30
0.1400
Application
PTFE coated wire mesh are commonly used as filter element in industrial applications.
Chemicals, resins and solvents.
Hydraulic oils.
Petroleum refining.
Power generation.
Pulp and paper industry.
Fuel lines.
Inquiry for Our Product
When you contact us, please provide your detail requirements. That will help us give you a valid quotation.